Detroit Is Trying Really Hard to Woo Young Workers
Source: Bloomberg 
Detroit needs more people like Victoria Schein. Less than a year out of Smith College, the 23-year-old software engineer has filed for 14 patents and received nine as part of Ford Motor Co.'s driverless-vehicle research team.
A self-described "California girl" with a thing for cars, Schein, a former Ford summer intern in the company's Silicon Valley research center, passed up a couple of enviable local offers to move to Dearborn, Michigan, and work for the automaker full-time.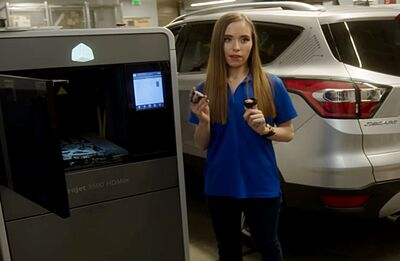 Victoria Schein
Source: Ford
"It's not that I don't want to be in Palo Alto, I love California," she says. "But when I came out here, it opened my eyes to different possibilities."
Schein is the exception. As U.S. automakers race companies such as Apple Inc., Uber Technologies Inc. and Alphabet Inc.'s Waymo to automate driving, most of the top talent continues to cluster out west, where there's better pay and weather, among other things. Detroit's big three and other car companies have about 5,000 U.S. job openings in software and electronics product development, representing about a third of their unfilled positions, estimates consultant AlixPartners LLP.
"This is a massive challenge," said Ben Dollar, a principal at Deloitte Consulting who counsels automakers on recruiting. "The scarcity of talent in this area is so acute, it's become a CEO issue, not just an HR issue."
Urban Lofts
What Detroit has going for it is the ability to get innovative cars on the road relatively quickly. That can be appealing for young auto-techies bent on changing the world. Then there's the cost of living, dirt cheap in Detroit compared with the Valley, along with modern urban lofts sprouting among the gritty downtown streets.
Still, Detroit remains a tough sell, given the Valley's $1 million signing bonuses and fat equity stakes in promising startups. The car companies' answer tends to fall in the work-life balance category, with features that have become almost cliches such as treadmill desks and "hoteling" stations for staffers passing through.
"This workforce does not want to be confined to a cubical or to a desk or even to an office," Julie Lodge-Jarrett, Ford's director of recruiting, said of the millennials the company is seeking. "One of them said to me, 'The 40-hour workweek is dead to us.'"
Pajama Option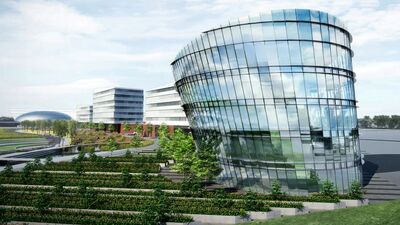 Ford campus redesign
Source: Ford
To lure more young talent straight out of school, Detroit is giving itself a full-on Silicon Valley makeover. General Motors Co. is spending $1 billion renovating its 60-year-old Tech Center in a northern suburb. Ford is overhaulingits 1950s-era Dearborn campus to add green space, walking trails and eco-friendly designs, such as a cylindrical glass tower dubbed the "Sustainability Showcase."
The first phase of Ford's facelift involved taking over an entire wing of an aging shopping mall in its hometown. Inside a former Lord & Taylor department store, digital engineers work in collaborative spaces. Amenities include rows of plug-in, stand-up hoteling stations. If all that's not good enough, there's the work-in-your pajamas option.
"If I had to work 10 hours a day or eight hours straight, I wouldn't be able to efficiently get my work done," said Schein, who feared burnout at the pace of a frenetic startup.
Fool's Errand
That way of thinking, though, is still hard to grasp for many steeped in the old ways of Detroit, said Michael Held, director of the automotive practice at AlixPartners. Car companies are also reluctant to hand out big bonuses to new recruits. Instead, they prefer to offer solid benefits and salary.
But 20-somethings are "looking for less in the way of stability and security and more in the way of upside potential," said Held. "I see a heavy reluctance to offer that."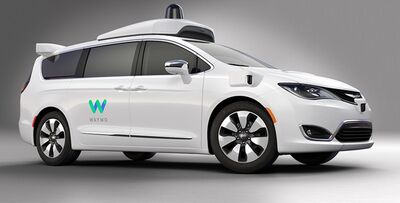 Chrysler Pacifica Hybrid minivan, equipped with Waymo.
Source: Fiat Chrysler Automobiles
To Sergio Marchionne, chief executive officer of Fiat Chrysler Automobiles NV, trying to replicate Silicon Valley in Detroit is a fool's errand. Fiat Chrysler has formed a partnership with Waymo to convert Chrysler Pacifica minivans into robot taxis, soon to test in Arizona.
"I have no intention of re-creating Silicon Valley in Michigan," Marchionne told reporters earlier this year. "To develop it internally and try to replace the creativity and level of capital that's being attracted by Silicon Valley" would send any car company into bankruptcy, he said.
Ford and GM are also hedging their bets. Ford recently picked up 400 employees from BlackBerry Ltd. to develop wireless technology, doubling the number of connected-car engineers at the automaker. It also is acquiring software expertise by taking stakes in self-driving startup Argo AI LLC, Velodyne Lidar Inc. and Pivotal Software Inc.
GM snapped up the self-driving software startup Cruise Automation last year and quickly tripled its staff to 150. Now, it's expanding employment at the San Francisco-based company to 1,100 engineers, according to an application it made to California's Economic Development Board.
"Getting a car to drive itself is a software engineering problem," Kyle Vogt, the Cruise Automation CEO, said in an interview. "The talent pool for that is bigger in the bay area."
For now, the automakers are just hoping for more recruits like Victoria Schein. After all, Detroit is the center of the universe for car culture, the local draft beer is excellent and the cost of living can't be beat.
Mr. Ahmadshahi's area of practice is Intellectual Property Laws including Patent Prosecution and Litigation, Trademarks, Copyrights, Unfair Business Practices, and Business Litigation. He is also an entrepreneur and an inventor.